New Tecumseth Monthly Market Update - October, 2020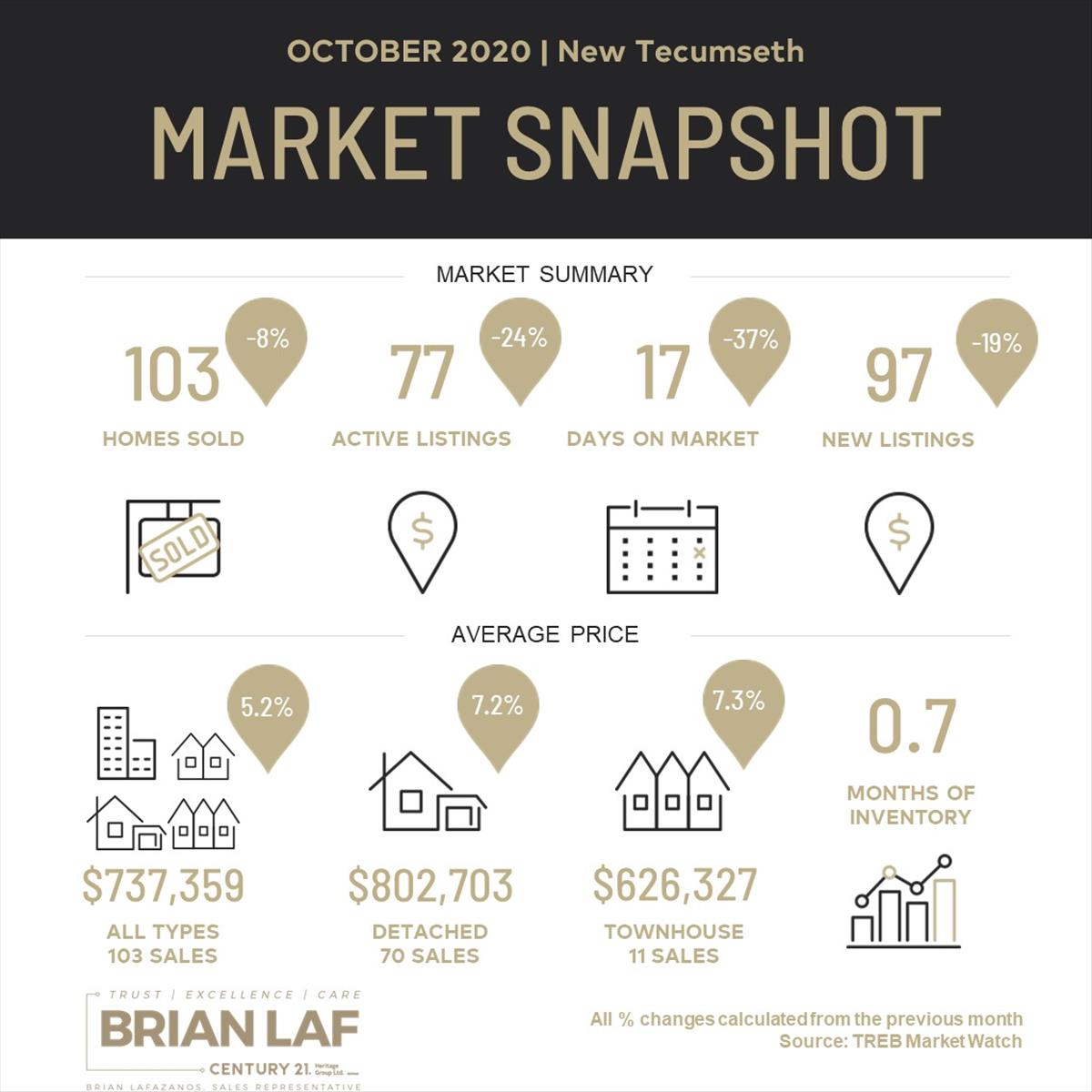 October 2020 saw another high number of local sales and new record high prices. This is great news for home owners and sellers because the value of your home asset has continued to increase, throughout the pandemic.

There were 103 sales in October, down from 112 in September, but up from 85 in October 2019, and above the increasing 13-month average of 80 sales per month. The 103 sales mark the fifth month in a row with sales over 100 sales per month. October is traditionally and active month in the fall market, with increased sales before the slower winter months.
Average sold prices, $737k, are up significantly from October 2019, $589k (+25%), and up from September 2020, $700k (+5.2%), and above the increasing 13-month average of $692k. These are amazing price trends for a global pandemic, but also continues to concern me as it is unsustainable. Approx. 56/103 (50%), sales in the month were above $700k. Townhouse average sales prices, $626k, are a record high and up significantly from last years, $483k (+29%), and above their 13-month average of $537.

Active Listings, 77, is below last month's 102, and less than half of last years, 196, and further below the decreasing 13-month average of 126. This 77 Active Listings is the lowest number in the last 13 months and very low historically, and part of a continuing trend of low inventory that started in November 2019. These low numbers are the driving factor in the high prices and very high demand.
Months of Inventory, 0.7, is significantly below last years, 2.3, and equal to last months 0.9, and again less than the decreasing 13-month average of 2.0. 0.7 is the lowest numbers since the "Boom of 2017". 0.7 MOI is the result of the high 103 sales compared to the low number of Active Listings, 77. Values below 4 are said to be a seller's market and means prices should be rising, and they certainly have been.

Days on Market were down to an average of 17 days, lower than last month's 27 days, and much lower than October 2019's 38 days (-55%), and less than the decreasing 13-month average of 31 days on market. 49/103, 48%, sales in August were sold in 10 days or less. This is another good illustration of October very strong buying demand; even with pandemic pressures, the homes that are selling are selling at very fast rates.

Consecutive high and record sales and extremely low inventory are great for home sellers and Realtors but buyers have not had it easy for the last few months. I am concerned that these record figures are unsustainable. The questions is: if and when the numbers start to trend the other way, will it be a soft transitions or a hard crash. The last correction in 2017 was initiated by government intervention. What could it be this time? A second-wave pandemic lockdown? A vaccine enabling more people to sell their home?

If you've been considering selling, don't delay. Don't' wait until spring. If you're buying for the long term, you may be buying at a high point, but over the long run it won't matter. If you're planning on buying and selling again soon ie flipping, now is a risky time to buy.

I have been tracking and sharing weekly sales statistic on my social media because things are changing so quickly.

Stay safe and be well everyone.

Weekly Snapshot - October, 2020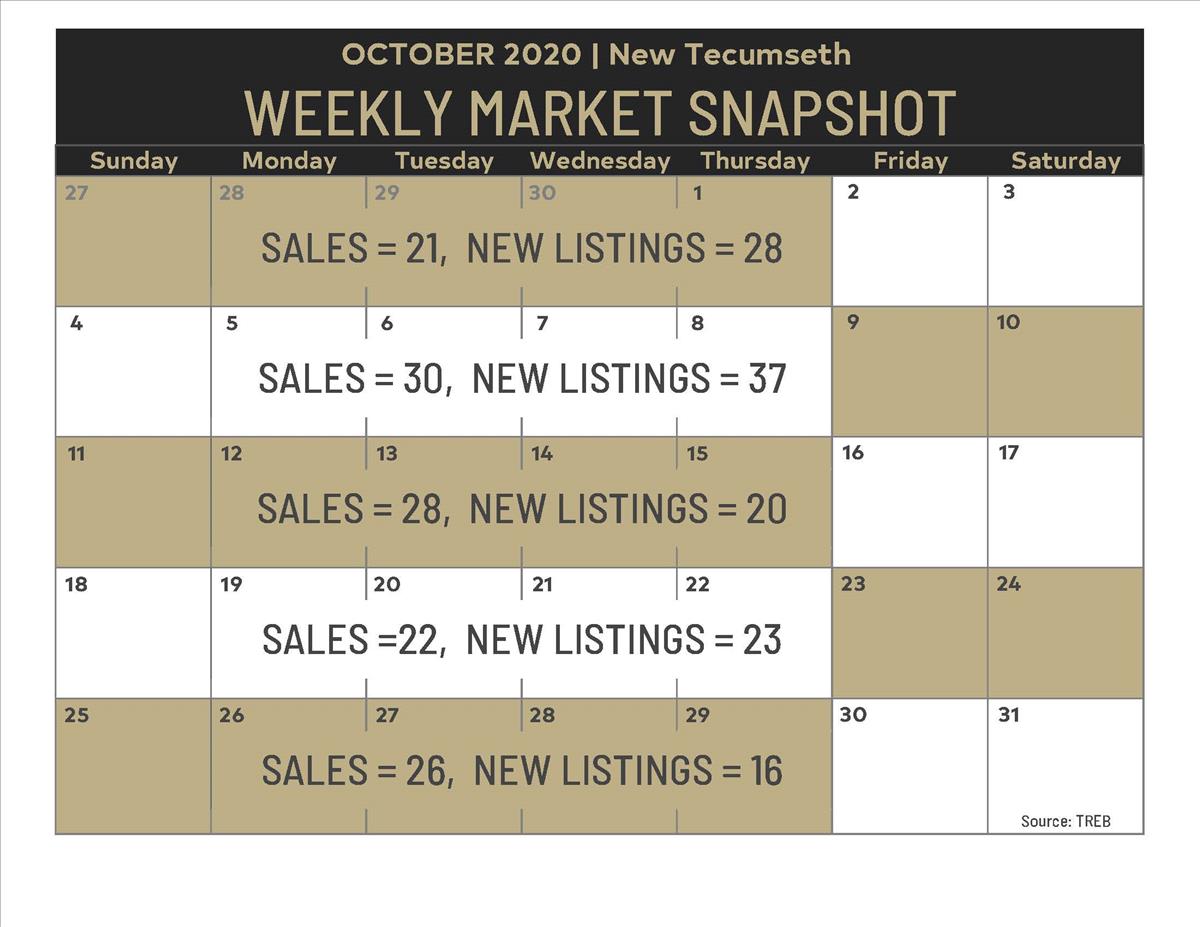 Year-Over-Year - October, 2020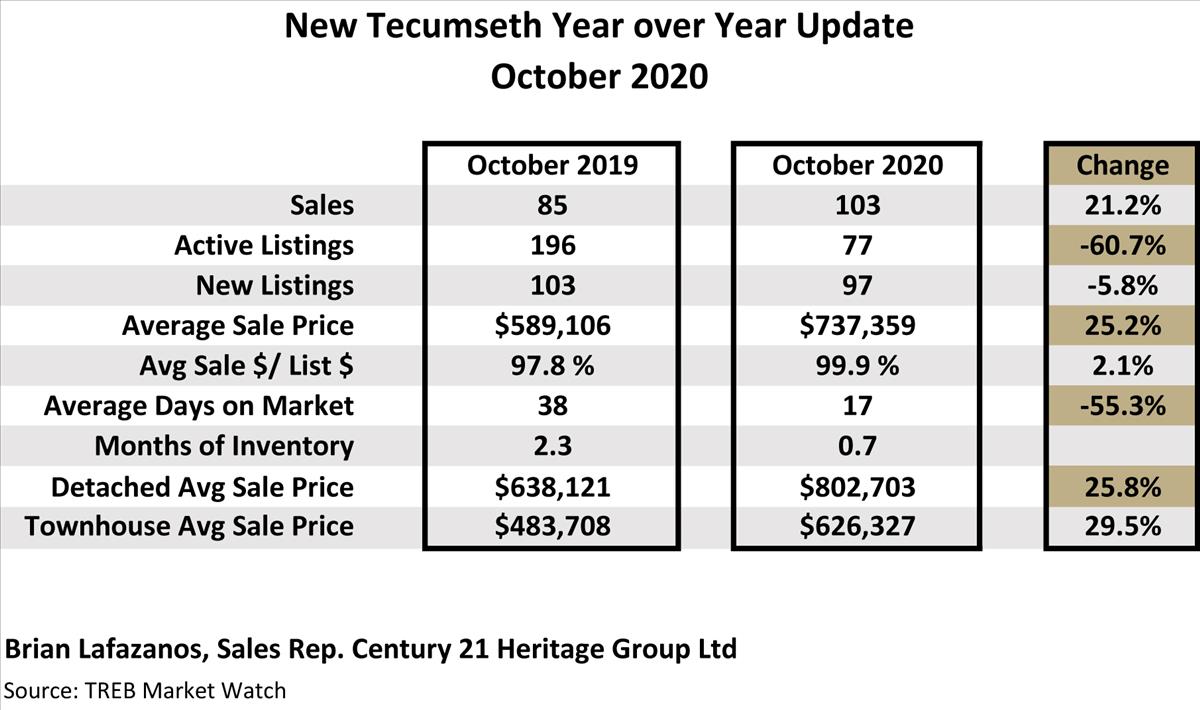 13 Month Update - October, 2020