New Tecumseth Monthly Market Update- January, 2021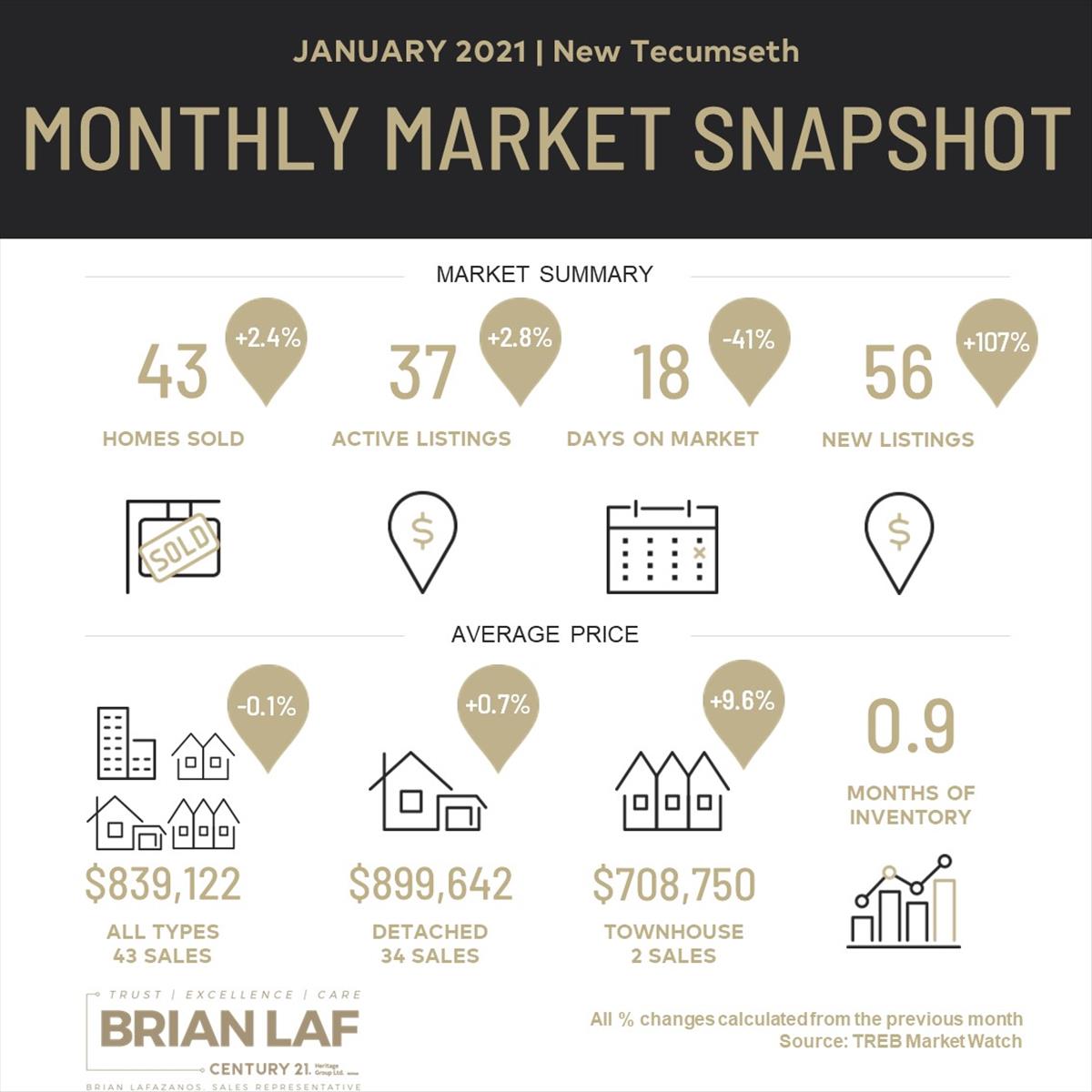 January 2021 saw ANOTHER new record high average sale price, according to me anyway. I consider December 2020s Avg Sale Price to be skewed because of three $2M+ sales in the month. January's average was just below December's. The number of local sales was up over last month, but that is to be expected with December traditionally being the slowest month for sales in the year. The extremely strong Sellers market continued and strengthened again for January, fueled by very low inventory and strong buying demand.

There were 43 sales in January, just up from 42 in December, down from the 46 in January 2020, and well below the 13-month average of 76 sales per month. January is traditionally a slow month for sales because of holiday recovery and winter weather. Additionally, this low number, compared to the high sales in the summer, is tied directly to the also very low number of new listings. Very little has come on the market recently, and almost everything is selling immediately.
Record high average sold prices, $839k(!!), is up significantly from January 2020, $644k, (+30%!!), and very similar to December 2020, $840k, and well above the increasing 13-month average of $706k. These are incredible price trends for a global pandemic, but also continue to concern me as it is unsustainable. Townhouse average sales prices, $708k (two sales), are another record high and up significantly from last year's $5ook (+41%), and above their 13-month average of $580k.
Active Listings, 37, is just above last month's 36, and approximately one-third of last year's 113, and further below the decreasing 13-month average of 101. This 37 Active Listings is significantly below most totals of the last 13 months, one of the lowest numbers in years, very low historically, and maybe proportionally the lowest ever! These low inventory levels are the on-going trend that started in January 2019, and that have significantly gotten lower in the last few months. These low numbers are THE driving factor in the high prices and insatiable demand.
Months of Inventory, 0.9, is significantly below last year's 2.5, and equal to last months 0.9, and less than the decreasing 13-month average of 1.7. This is the fifth month of the last six with MOI of less than 1. Values below 4.0 are said to be a seller's market and means prices should be rising, and they certainly have been!
Days on Market were down to an average of 18 days, lower than last month's 31 days, and lower again than January 2020's 48 days (-62%), and lower than the 13-month average of 27 days on market. ~30 of the sales in January were sold in 10 days or less. This is another illustration of January's very strong buying demand. Even with pandemic pressures, the homes are selling at very fast rates.
Consecutive record average sale prices and extremely low inventory are great for home sellers, but buyers are really struggling in this market. I am concerned because these record figures are unsustainable. The question is: if and when the numbers start to trend the other way, will it be a soft transition or a hard crash? The last correction in 2017 was initiated by government intervention. What could it be this time? Widespread vaccination enabling more people to sell their home? Or vaccine relief that slows the exodus from the city and lowers demand?
If you've been considering selling, don't delay. Don't wait until spring. The market has NEVER been stronger. If you're buying for the long term, you may be buying at a high point, but over the long run it won't matter. If you're planning on buying and selling again soon i.e. flipping, now is a risky time to buy.
I have been tracking and sharing weekly sales statistics on my social media and blog because things are changing so quickly.
Stay safe and be well everyone.
Weekly Snapshot- January, 2021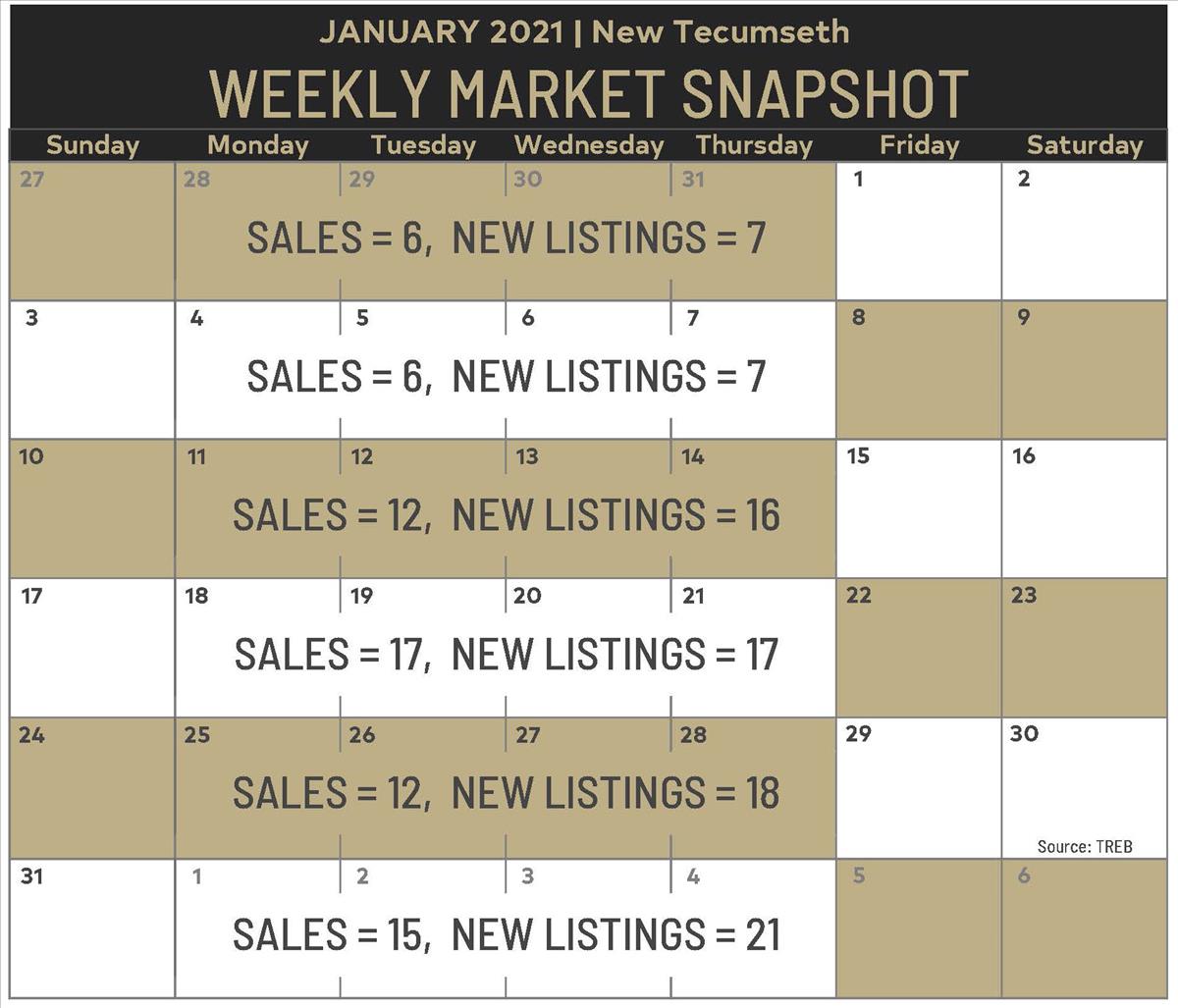 Year- Over- Year- January, 2021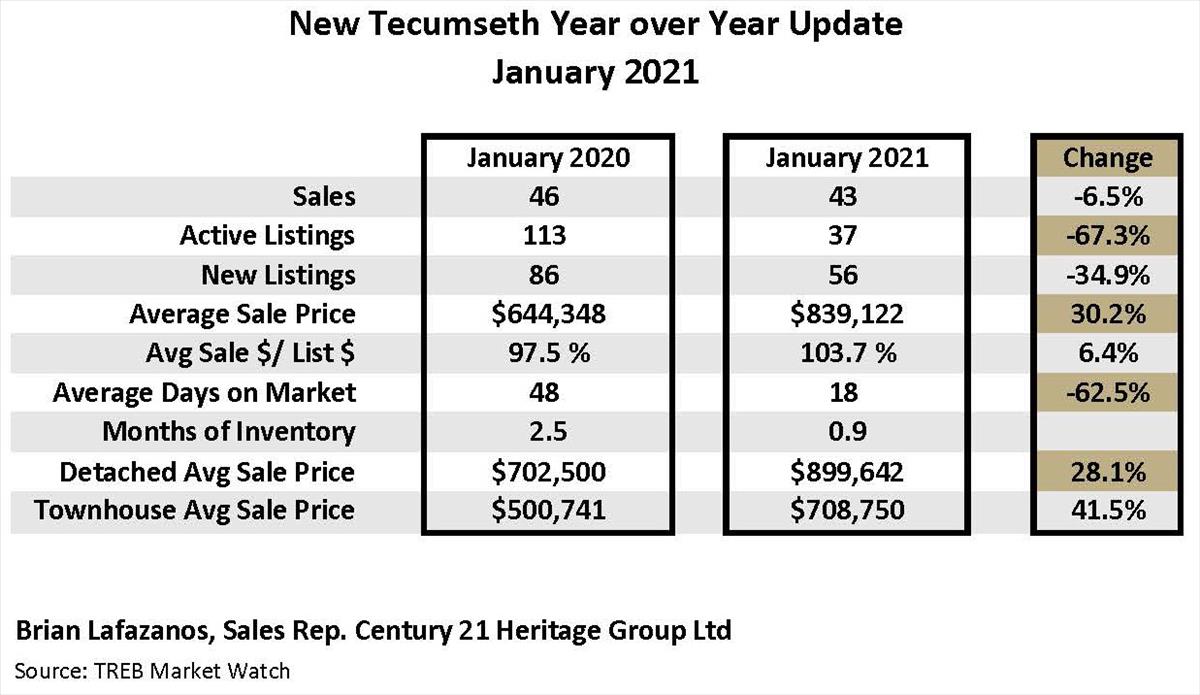 13 Month Update- January, 2021